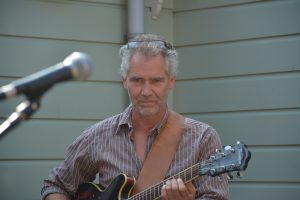 Besides performing I teach guitar and band lessons. It started with private lessons at home, then worked at the music school at Alphen and also did a lot of different workshops. At the Conservatory of Amsterdam, I teach guitar methodic and band coaching at the pop department. At the jazz department, I help both bachelor and master students to create their own careers with the Music Business & Career lessons. I also give guitar and band lessons at MdcA IJburg.
For the Laudius Institute, I wrote a 1300 pages guitar method with 75 cd's, I still create and design a lot of teaching material.
I'm always searching for the new and best ways of writing good material to create a personal lesson combined with digital material.
All this material I called Guitar Basics
Some Guitar Basics stuff.
For my students, I designed this poster with basic guitar information like chords, scales and fretboard notes.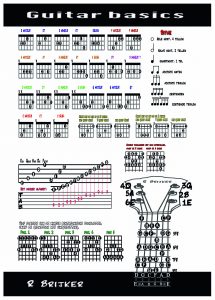 More Guitar basics stuff:
Neck knowledge, power chords, minor and major pentatonic and other scales.
A good and new way of getting the best neck-knowledge, learn power chords all over the neck in combination with pentatonic scales and others: Guitar basics-ReneBrijker-halskennis-powerchords-toonladders
Guitar Theory:
All the things you can learn on your guitar.
How to play all kind of scales, basic chords, jazz chords, about rhythm, how to read and play written notes and tabs, the CAGED system and many more. Guitar basics-R Brijker- Muziektheorie
On this page also some of my instruction video's called guitar basic for more beginning students, have fun with it. More material will follow soon.